Posted on Mon, 03/4/2013 - 12:47 PM by
viewed 53 times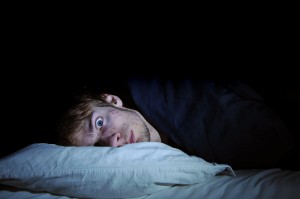 When you think about it — being in the dark is always scary. When you were a kid, laying in bed and you heard a strange noise in your closet or under your bed you never thought to yourself, "hey, I bet there's an ice cream sundae making machine in there!"
No — it was always a monster, a giant spider or a deranged killer.
There's something about being in the dark that makes us feel vulnerable and afraid.  And that doesn't seem to change as we get older.
Guess what — the same thing happens to us when we're kept in the dark on a project.  And yet…one of the biggest and most common mistakes that businesses make every single day is that we under communicate.
When the project is just cooking along, we're busy doing the work.  But what we forget is that our client is on the other side of the equation, wondering how things are going.  They need reassurance that something is happening and everything is on schedule and going according to plan.
But few businesses have "check in" points, where they just report back to the client. And it's even worse if there's trouble.  Then the silence is deafening.
If you want to increase your client satisfaction and retention — increase your communication.  The longer your processes are — the more communication check points you need.  Don't  make a client ask you for an update.  Set a regular schedule (might be once a day, once a week, etc.) so they know when they're going to hear from you.
Even if the update is as simple as "everything is on schedule and going fine" it will go a long way to keeping that client feeling like you have everything in hand and they don't need to worry.
Photo courtesy of BigStockPhoto.com
You might also like

Don Imus: The dark side of citizen marketing?

Is your brand an accident waiting to happen?

Things are not rosy at FTD!
I was recently contacted by a college student who asked if he could interview me for one of this classes.  One of the questions he asked is one I get a lot, so I thought I'd share my answer with you here.
When you're creating any sort of communication aimed at a potential buyer, you want them to do what?
The world has changed.  Things are different.  This is the new normal.  This ain't your grandaddy's marketing.
That's the age-old question, isn't it? When you think about everything we've experienced in the last decade and a half – from the Y2K scare to 9/11, Iraq and then the recession – no wonder that a certain level of insecurity about the future has become a permanent part of our psyche...
Marketing is getting the details right.  And its always the simple things that companies mess up.  Lt me give you an example.
Thursday is guest post day here at Duct Tape Marketing and today's guest is Emeric Ernoult – Enjoy!
This month's theme here at Duct Tape Marketing is writing – you might enjoy these two posts if you have read them yet – 7 Things I Did Not Know About Writing Before I Started and How I Write and How I Decide What To Write
Marketing podcast with Mitch Joel I've been sensing a change these days. Actually, like most change, it happens in a way that is imperceptible, until you step back and look at something like a six month window. Then you can see it. photo credit: andjohan via photopin cc The world of marketing ...
The tweetable answer to the "How often should I blog?" question is this: Blog as often as possible, as long as you're writing content that offers value to readers. But obviously there's more nuance involved in answering this question, so let's dive a little deeper into ...
People seem fascinated with routines – how other people get things done and the like. While you do need to develop your own way of getting it all done, it can be inspiring and reassuring to hear how others are doing it. (Yesterday I wrote – 7 Things I Did Not Know About Writing Before I Started)